A trip through the Sunburst Car Care Tunnel treats your vehicle to an outstanding wash experience that is second to none. We combine state-of-the art wash equipment with environmentally friendly cleaning products to ensure your vehicle leaves clean and dry with a sparkling finish.

Clean Touch
CleanCut 360 is a Heavy-duty alkaline multipurpose cleaner is designed to break down the toughest road film, dirt, and grime to produce outstanding clean vehicles. It's also effective at removing brake dust and organic soils producing sparkling wheel rims and clean tires. Clean Cut 360 is the most technologically advanced non-corrosive alkaline presoak on the market today.

Cleaning Power of Soft-touch Friction
Next your vehicle is treated to the outstanding cleaning performance of MacNeil Envirosoft Soft Touch Foam… hundreds of gentle foam fingers clean and polish your vehicle's surface. Superior function allows the MacNeil wash equipment to gently and thoroughly clean vehicles of all shapes and sizes. Stubborn brake dust and road grime are easily and safely removed from all types and sizes of wheels and tires by a revolutionary piece of equipment also from MacNeil known as the "Wheel Boss".

Cleaning With Color
A colorful experience is offered with the application of Triple Foam conditioner which is sure to delight the children and adds an additional level of protection & shine to your vehicle's surface.
Next on line, the Axis Contouring Arch stands ready to provide high pressure touch free cleaning action to the front back, tops and sides of your vehicle. It is effective in cleaning and rinsing all of those hard-to-reach areas.

Clean Touch Rainshield.
RainShield is a consistent best-performing surface sealant product in the marketplace. It offers a long-lasting protective layer from all types of environmental elements including UV rays and acid rain.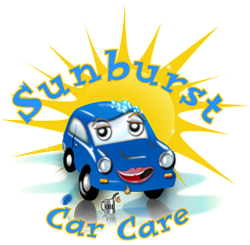 Our Promise
Perhaps the best reason to make the Sunburst Car Care Tunnel your choice is because of the environmental friendly attitude that is a mainstay of our business. We are certified in the stringent EcoLab Blue Coral Green program. All of the car care products we use in our wash process are environmentally sound. The MacNeil wash equipment incorporates state of the art energy saving technology. We have a business desire to be useful for future generations.